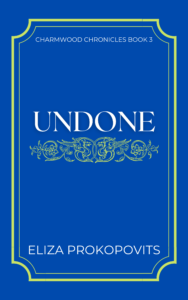 She must destroy the most powerful magical object of the age… or the dragons will destroy her family.
Four hundred years ago, a hero with an enchanted sword defended the kingdoms from increasingly violent dragons. Their numbers decimated, the dragons forged a treaty with the fairies to entrap the Dragon-killer and destroy the sword. But fairies are nothing if not treacherous…
The sword, as powerful and dangerous as ever, has fallen again into the claws of the dragons. In return for their help rescuing her sister, Zia has rashly promised to destroy it. Unfortunately, she has no idea how.
Together with her sister Meri and the all-knowing Talking Dog, Zia must find a way to finish off the sword for good, navigating fairies, wizards, love, magic, and another unwanted prophecy. If she doesn't, she'll never see her parents or younger siblings again…

This is the third and final book in the completed Charmwood Chronicles trilogy, which should be read in order. The two previous books are Sabryn and Firstborn.
Undone is available on September 13, 2022, from Amazon and from your favorite bookseller or library!